Descrição do produto
pequena máquina automática de pintura por spray com função de secagem
| | | | |
| --- | --- | --- | --- |
| Item | Project parts | quantity | unit |
| A. | Customized 3.5m surround spray painting machine | 1 | Unit |
| 1. | Conveyor line body | | |
| a. | Line speed: 2-8m/min | | |
| b. | Designed speed 3m/min; | | |
| c. | Conveyor machine: table type conveyor | | |
| d. | Chainlink model: double wheel large roller type conveyor chainlink; | | |
| e. | Machine structure: SS 41-50 ×50 iron square and L40×40×3 Angle iron; | | |
| f. | Table: SPG-1.5t galvanized sheet | | |
| g. | Shield: SUS-201-1.0t stainless steel plate; | | |
| h. | Track and edge guard: made of 50*25 stainless steel flat pass | | |
| I. | Sealing plate :1.2mm cold plate made with powder surface finish. | | |
| 2, | Conveyor drive | 1 | Set |
| a. | The power is 1HP gear reduction motor, 120#1/60 reducer; | | |
| b. | Sprocket: 45# steel, tooth surface heat treatment; | | |
| c. | Rotary shaft: 45# steel machine processing; | | |
| d. | Shaft seat: 10mm thickness steel plate. | | |
| 3, | Rotary device of jig | 3 | Set |
| a. | Shaped table: friction rotating table; | | |
| b. | Power: 200W 1:20 gear reducer motor 1Set; | | |
| c. | Speed adjustment: 0.5HP inverter; | | |
| d. | Driving wheel: 3" pulley; | | |
| e. | Ensioning wheel: A3 steel machining production; | | |
| f. | Transmission belt: high quality anti-skid triangle belt. | | |
| 4, | Primary Jig | 80 | Set |
| a. | Bottom cover: round cover made of aluminum, knurled outside, precision bearing embedded inside; | | |
| b. | Pole: φ12 light circle, A3 steel, galvanized surface; | | |
| c. | Jig spacing: 100mm for one piece; | | |
| 5, | Automatic painting and control system (for 8 spray guns control) | 1 | Set |
| a. | Automatic spray gun: iwata wa-101, caliber :1.3mm | 6 | Pcs |
| | Paint supply pump: model 716 1-bracket 8 pump; | 1 | Set |
| c. | Pneumatic agitator: 5 gallon lengthened type; | 1 | Set |
| d. | Automatic static dust removal (1- 2) | 1 | Unit |
| 6, | Spray gun support group | | |
| | H500mm | 1 | Set |
| a. | Support is made of 40*40 nano plate with diameter of 20; | | |
| b. | "7" word type screw fixed, high and low, front and back freely adjustable. | | |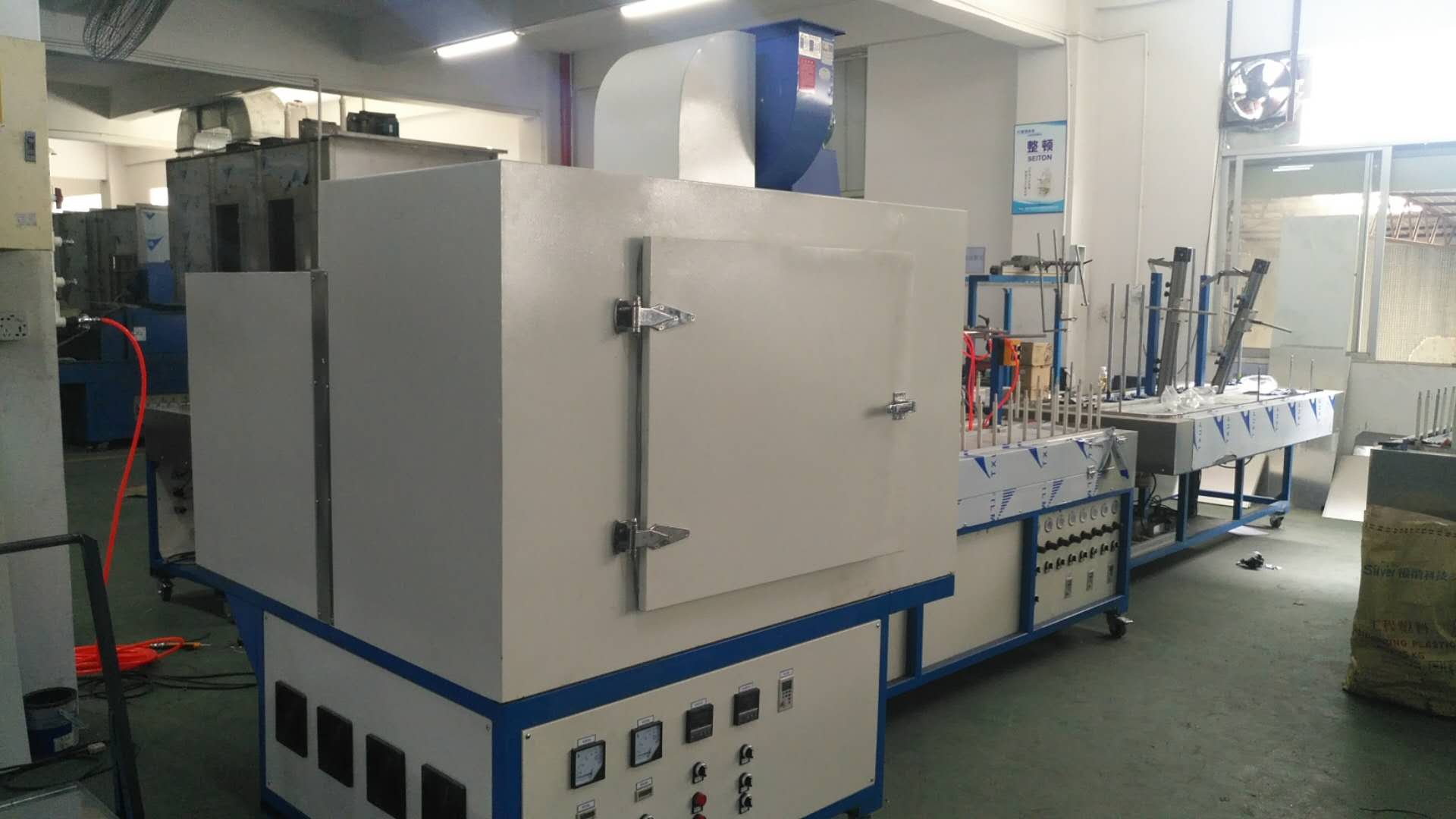 | | | | |
| --- | --- | --- | --- |
| B. | Preheating oven | 1 | Unit |
| 1, | Specification ::l1.2m*W0.8m*H1.0m | | |
| a. | The shell is made of 1.2mm cold plate bent and its surface is powder coating | | |
| b. | The inner tank is made of 1.0mm stainless steel plate. | | |
| c. | The heating is controlled by far infrared quartz heating. | | |
| d. | Temperature is adjustable from room temperature to 60 degrees constant temperature adjustable; | | |
| e. | Electronic control: electrical components are domestic and international quality products, national standard cable distribution. | | |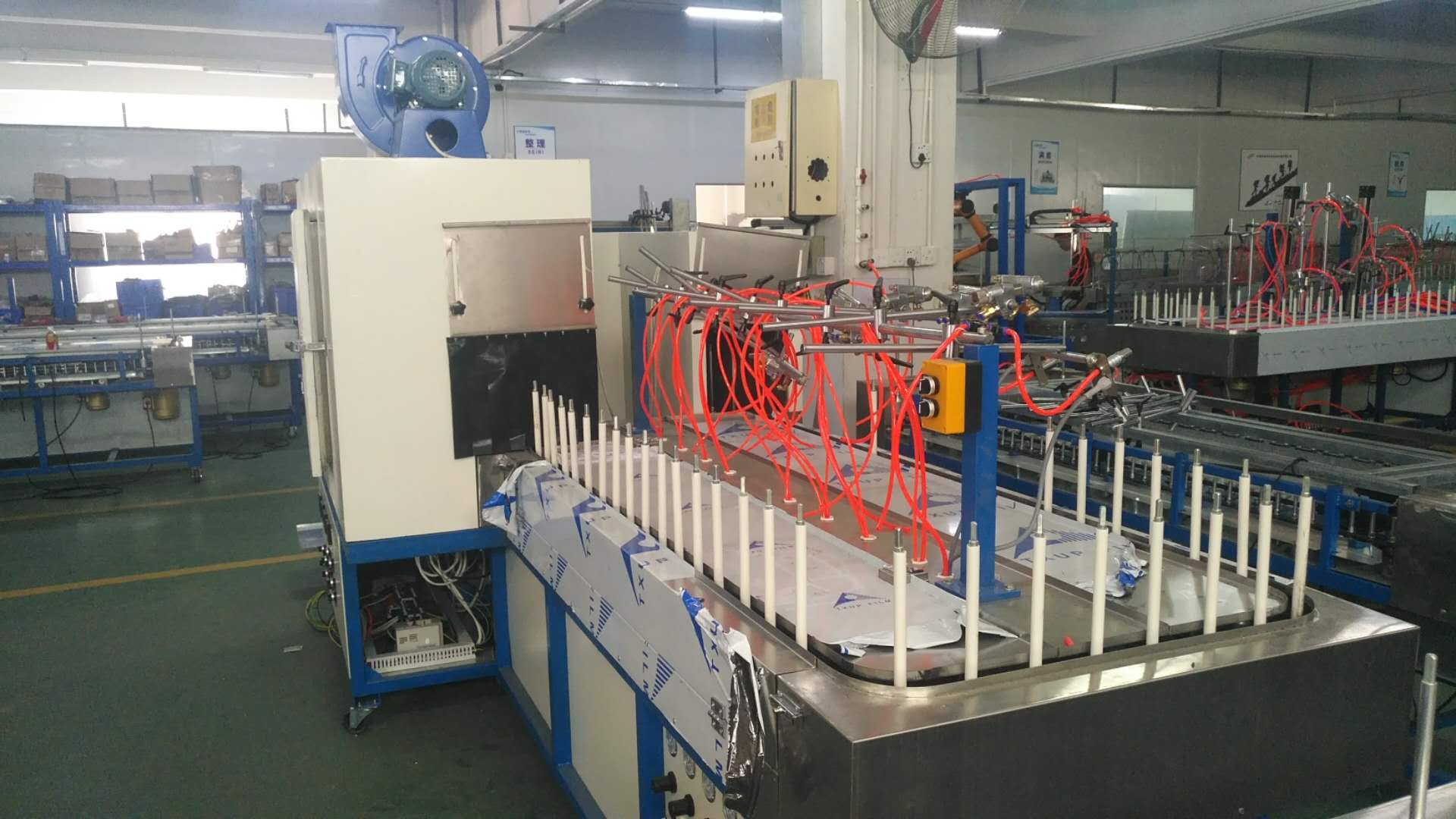 | | | | |
| --- | --- | --- | --- |
| C. | UV curing machine | | |
| 1, | UV curing oven | 1 | Unit |
| a. | Specification ::L1.2m*W0.8m*H1.0m | | |
| b. | Chassis: 40*40 square welding, surface painting treatment; | | |
| c. | The shell is made of 1.2mm cold plate bent and its surface is powder coating. | | |
| d. | The inner tank is made of 1.0mm stainless steel plate. | | |
| e. | One side of the oven body is provided with a louver air inlet, and the outlet is provided with black blocking light cloth; | | |
| f. | Light source: domestic 3KW-UV lamp 2Set, with transformer and capacitor; | | |
| g. | Lamp shade: it is made of 1.0mm stainless steel plate and is equipped with lamp shade | | |
| | Stainless steel protective mesh to prevent products from falling onto the lamp tube; | | |
| h. | Automatic constant temperature control, automatically start the fan exhaust when the temperature is too high, | | |
| | And has the fan delay stop function; | | |
| i. | Electronic control: electrical components are domestic and international quality products, national standard cable distribution. | | |
| 2, | UV rotation | 1 | Set |
| a. | Shaped table: friction rotating table; | | |
| b. | Power: 200W 1:20 gear reducer motor 1Set; | | |
| c. | Speed adjustment: 0.5HP inverter; | | |
| d. | Driving wheel: 3" pulley; | | |
| e. | Tensioning wheel: A3 steel machining production; | | |
| f. | Transmission belt: high quality anti-skid triangle belt. | | |
| 3, | UV exhaust fan | 1 | Set |
| a. | The fan is made of cf-1hp Jiuzhou Brand centrifugal fan. | | |
| b. | Mechanical damper is used for air volume regulation; | | |
| c. | The front end is equipped with high-temperature bellows hose, and the rear end exhaust pipe is the responsibility of the customer. | | |
| D. | Assembly costs | 1 | Unit |
| | TOTAL POWER :10000W | | |

T1. Posso ter um pedido de amostra para máquina de pintura de plástico?
A: Sim, agradecemos o pedido da amostra para testar e verificar a qualidade.
2º trimestre. E quanto ao tempo de espera?
A: A amostra precisa de 7 dias, o tempo de produção em massa precisa de 2-3 semanas para a quantidade do pedido mais do que
3º trimestre. Você tem algum limite de MOQ para pedido de máquina de revestimento?
A: baixo MOQ, 1 conjunto para verificação de amostra está disponível
Q4. Como você envia as mercadorias e quanto tempo leva para chegar?
R: Nós geralmente enviamos por mar,
Q5. Como proceder um pedido de máquina de revestimento?
R: Em primeiro lugar, informe-nos sobre seus requisitos ou aplicação.
Em segundo lugar, fazemos orçamentos de acordo com suas necessidades ou nossas sugestões.
Em terceiro lugar, o cliente confirma as amostras e faz o depósito para o pedido formal.
Em quarto lugar, organizamos a produção.
Q6: você oferece garantia para os produtos?
R: Sim, oferecemos 1 ano de garantia para nossos produtos.
Q8: como lidar com o defeito?
A: Em primeiro lugar, nossos produtos são produzidos em estrito sistema de controle de qualidade e a taxa de defeito será menor
de 0,2%.
Em segundo lugar, durante o período de garantia, enviaremos novas peças de máquina com novo pedido para pequenas quantidades. Para
produtos em lote com defeito, iremos consertá-los e reenviá-los para você ou podemos discutir a solução i
incluindo nova chamada de acordo com a situação real.
Por favor, entre em contato conosco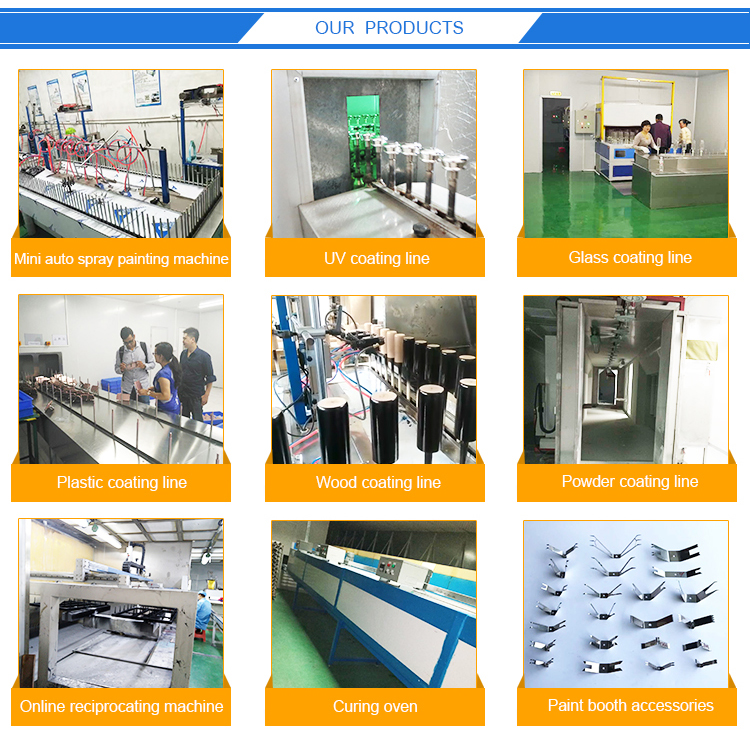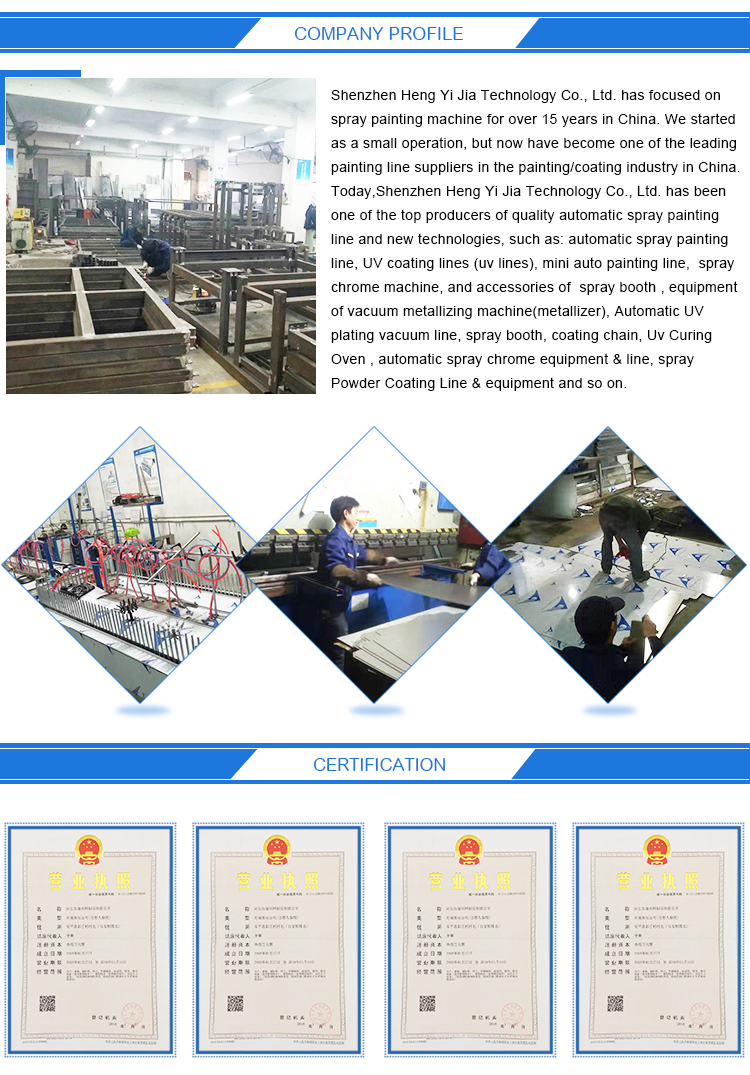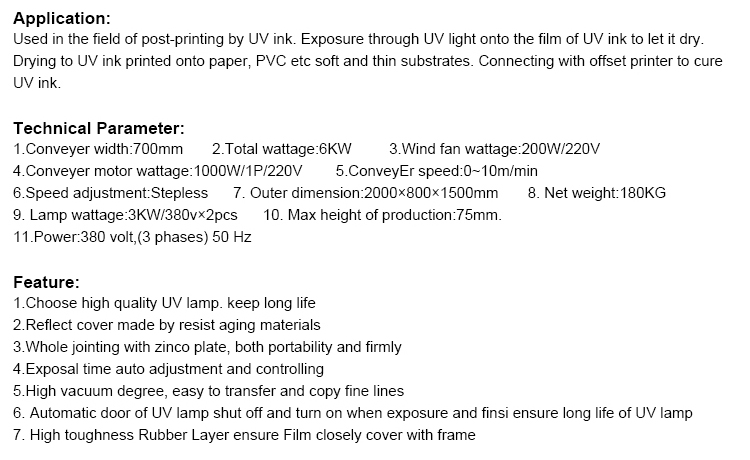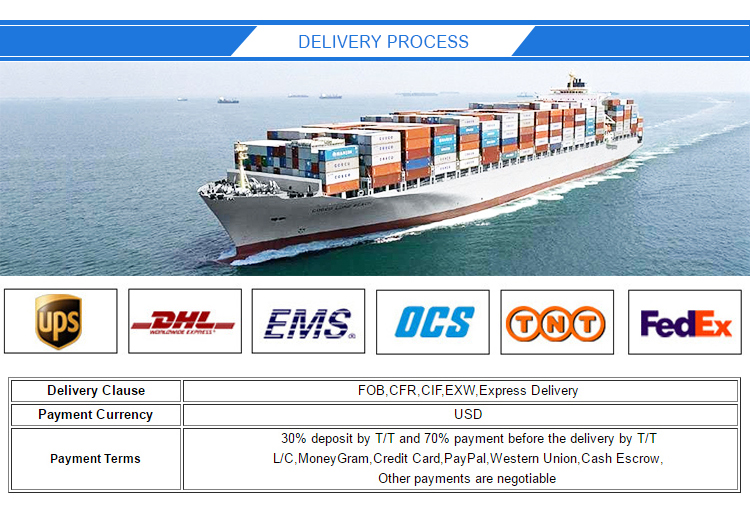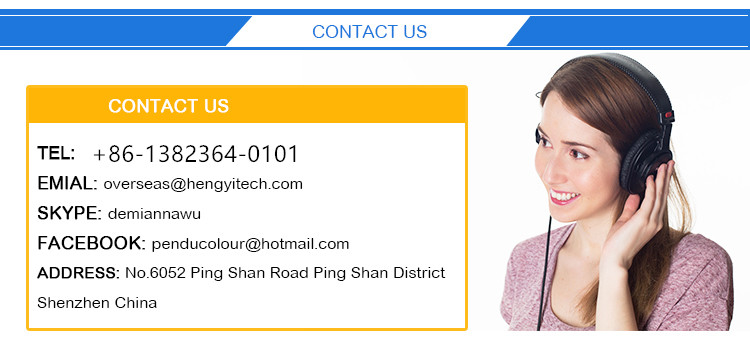 Shenzhen Heng Yi Jia Technology Co., Ltd.
Our History
Shenzhen Heng Yi Jia Technology Co., Ltd. has focused on paint spraying equipment for over20 years in China. We started as a small operation, but now have become one of the leading painting line suppliers in the coating industry in China.
Today,Shenzhen Heng Yi Jia Technology Co., Ltd. has been one of the top producers of quality automatic spraying line and new technologies, such as: automatic paint spraying line, UV paint spraying line(uv lines), spray chrome line, mini auto painting line, spray chrome equipment and accessories of coating equipment of vacuum metallizing machine(metallizer), Automatic UV plating vacuum line, spray booth, coating chain, UV curing oven, automatic spray chrome equipment&line, spray powder coating line & equipment and so on.
Our factory
Shenzhen Heng Yi Jia Technology Co., Ltd. is located in the China The beautiful coastal city-Shenzhen. As a global supplier in auo paint spraying line, UV paint spraying line, mini auto painting line, spray chrome line, spray chrome equipment and accessories of coating equipment. Heng Yi Coating Technology is to create added value for customers around the world.
Our product
Our products includes the following:
1, Automatic paint spraying line
2, UV paint spraying line
3, Mini automatic paint spraying machine
4,small automatic spray coating machine
5.UV spray coating line
6. automatic spray painting line
7.Industrial tunnel oven
8.Fixed oven
9.UV curing machine
We supply coating products all over the globe to a wide range of companies worldwide, ranging from large multinational organizations to small individual companies.
Product Application:
Spray painting plant for Industry use are widely used in the following industry, such aspackage coating plant:
--- Glass packages coating for cosmetics, perfume, wine, caps, bottles and other parts
---Painting plant for product paint surface finishing
---Vacuum coating plant
Spray chrome equipment with formula which from our second production line, are widely used for cmetallzing oating, and vacuum coating machine etc.
Our certificate:
We always feel that all success of our company is directly related to the quality of the products we offer. They meet the highest quality requirements as stipulated in ISO9001, ISO14000:14001 quality control system, CE certificate, etc.
Production equipment
We are capable of mixing and producing an paint spraying line, UV lines and offer some of the most advanced manufacturing capabilities available, including vacuum coating machine, mini paint spray machine and spray chrome machine etc.
Production market:
We have customers from both domestic market and oversea market.Heng Yi Jia Technology Sales managers can speak fluent English for good communication. Our main sales market:
China : 50%
USA: 10%
Spain:5%
Thailand:3%
Singapore:2%
India: 20%
Our service for coating equipment.
Besides our existing molded spray painting line, auto paint spray line, uv paint line, mini paint spray line, spray chrome machine, also can produce other coating line according to the drawings from our customers. We control the product quality critically for every step during the manufacturing from custom coating equipment. We offer technical support that is second to none. installation at local.
Nome da empresa: Shenzhen Heng Yi Jia Technology Co., Ltd.
representante: Wu Juhua
Produto / Serviço: Powder coating machine , Automatic Spray painting coating Line , UV Coating machine Line , small automatic spray coating machine , tunnel oven , semi-automatic spray coating line
capital: 50万
Ano de Fundação: 2016
Volume anual de vendas (milhões EUA $): Below US$1 Million
Porcentagem de exportação: 81% - 90%
Volume de Compra Anual Total (EUA $ Milhões): Below US$1 Million
N º de Linhas de Produção: 5
Número de Funcionários de I&D: 5 -10 People
Número de Funcionários QC: 11 -20 People
Serviços OEM Desde: yes
Tamanho da Fábrica (metros Quadrados): 3,000-5,000 square meters
Localização da Fábrica: No.2 Street 5 Lao Keng Industrial Zone Keng Zi Shenzhen China
Pessoa De Contato: Ms. Demi Wu
Número De Telefone: 86-755-29492864
Enviar e-mail para este fornecedor